As a modern, progressive business, we recognize the need to ensure that our business works smoothly and without interruption in
favour of our clients, employees and stakeholders.
In order to ensure such a level of continuous operation, we have implemented an Information Security Management System (ISMS) in accordance with the International Standard for Information Security, ISO 27001.
This standard defines the requirements for ISMS based on internationally recognized practice.

The work of ISMS has many advantages for the business, including:
• Protect the flows of revenue and profitability of the company
• Providing with appropriate customer service
• Maintain and improve the level of profit
• Compliance with legal and regulatory requirements

Nearshore Macedonia decided to maintain full ISO 27001 certification in scope software development to effectively adopt the best practices for information security.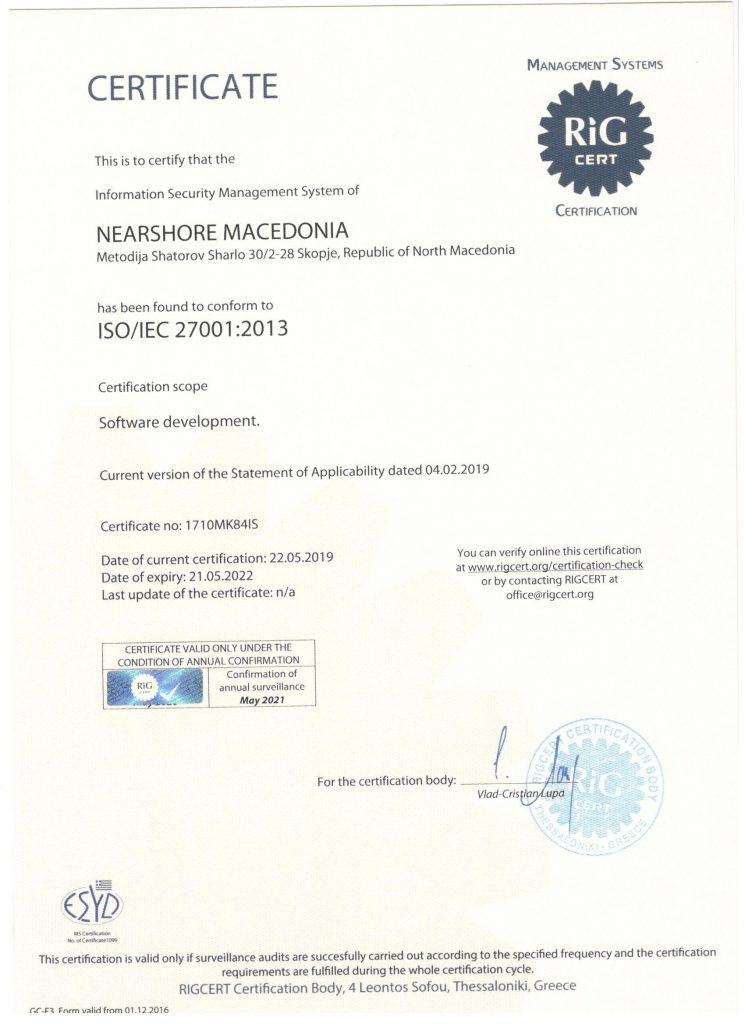 We care for Continual improvement on ISMS
• Improve current processes to align with good practice as defined in ISO 27001 and
related standards
• Obtaining an ISO 27001 certificate and keeping it on a continuous basis
• Increase the level of proactivity (and the perception of stakeholders of proactivity) in
terms of information security
• Enabling the processes and controls for information security to be measurable
• Review the relevant indicators on an annual basis to assess whether it is appropriate
to change, based on historical data
•Get ideas for improvement through regular meetings and other forms of
communication with stakeholders
• Review ideas for improving regular management meetings in order to prioritize and
assess timelines and benefits
Relevant Information Security Policies
We define policies in a wide range of security-related areas, areas detailed in a comprehensive set of policy documentation that accompanies our information security policy.

Each of these policies is defined and agreed upon by one or more persons with jurisdiction in the relevant field and formally approved.

The policy statements in this policy and the set of supporting policies are reviewed and approved by the Top management By Nearshore Macedonia and must be complied with.
Failure by an employee to comply with these policies may result in disciplinary action being taken in accordance with the organization's Employee Disciplinary Process.
Information is a valuable asset and it needs to be regularly protected.
From an aspect from our potential customer, you have an assurance that we are operating in a professional manner that highly values security and is complied with internationally recognized standard.